Jacq O'Lantern has a happy little ghoul popping right out her top like a jack-in-the-box! The first mini #usebothsides quilt pattern, Jacq O'Lantern is too much fun to make!
She's a pint-size lesson about value but when you make her, you've learned the easy tricks for using value to make any of the patterns using both sides of one focus fabric!
I was never real big on halloween decorations. I preferred to use that money to buy more Christmas lights and decorations. We didn't avoid Halloween with our kids, but we also didn't make a big fuss about it. So…why is it I LOVE Halloween fabric so much?
As a kid I only had a couple of drawings I liked to do – over and over. One was a beach scene with a palm tree (are you surprised?). The other was a witch on a broomstick.–she always had a long chin that jutted out and a big ole wart on her nose. Maybe these Halloween fabrics take me back to my childhood or something. Several of my favorite quilts and projects are Halloween themed. I'm sure you seen them before but, well, 'tis the season!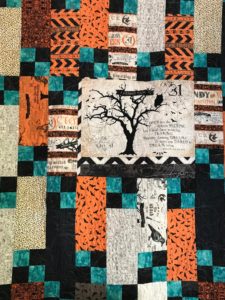 If you like Halloween fabrics like I do, chances are you have everything you need in your stash to make this little gal. So grab your stash – and turn it over! #usebothsides
Our youngest daughter's name is Jacquelyn. We've always had nicknames for her such as
Jacq
Jacq Jacq
Da Jacqinator (at the age of two she could "destroy" a room in minutes)
Jacqqity Jacq (don't talk back)
and, among others,
Jacq O'Lantern.
Jacq O'Lantern Quilt Pattern makes a mini (a mere 12″ square) to hang perfectly on wire hanger.
Subscribe below to get weekly blog posts directly to your email address.